Montréal Meetings & Events
Host an Exceptional Event at the Ruby Foo's Hotel
Inspiring sales meetings, tech-savvy product demonstrations and engaging training seminars. Unforgettable weddings and vibrant parties. Intimate or grand, indoors or out on our poolside terrace, events at the Ruby Foo's Hotel are meticulously tailored and beautifully executed.

Plan your event with us
Our hotel is easy to reach for both in- and out-of-town guests. We are conveniently situated just 15 minutes from downtown Montréal and Pierre-Elliott Trudeau International Airport and just a few steps from Namur Subway Station.


With a total of 6,000 square feet of versatile event space encompassing four venues and 10 different room combinations, we have the perfect setting for your event.
We offer fully customised catering menus, and all audiovisual needs can be accommodated by our AV provider, Pro-Staging. We offer Mediterranean and Continental-style cuisine along with a kosher kitchen and kosher options.
Our Venues
Appointed with elegant furnishings and finishes, the 6,000 square feet of function space at the Ruby Foo's Hotel offer a blank canvas for your event masterpiece.

Our four distinctive meeting, wedding and special event venues can be accessed separately or combined to accommodate any manner of event up to 300 guests.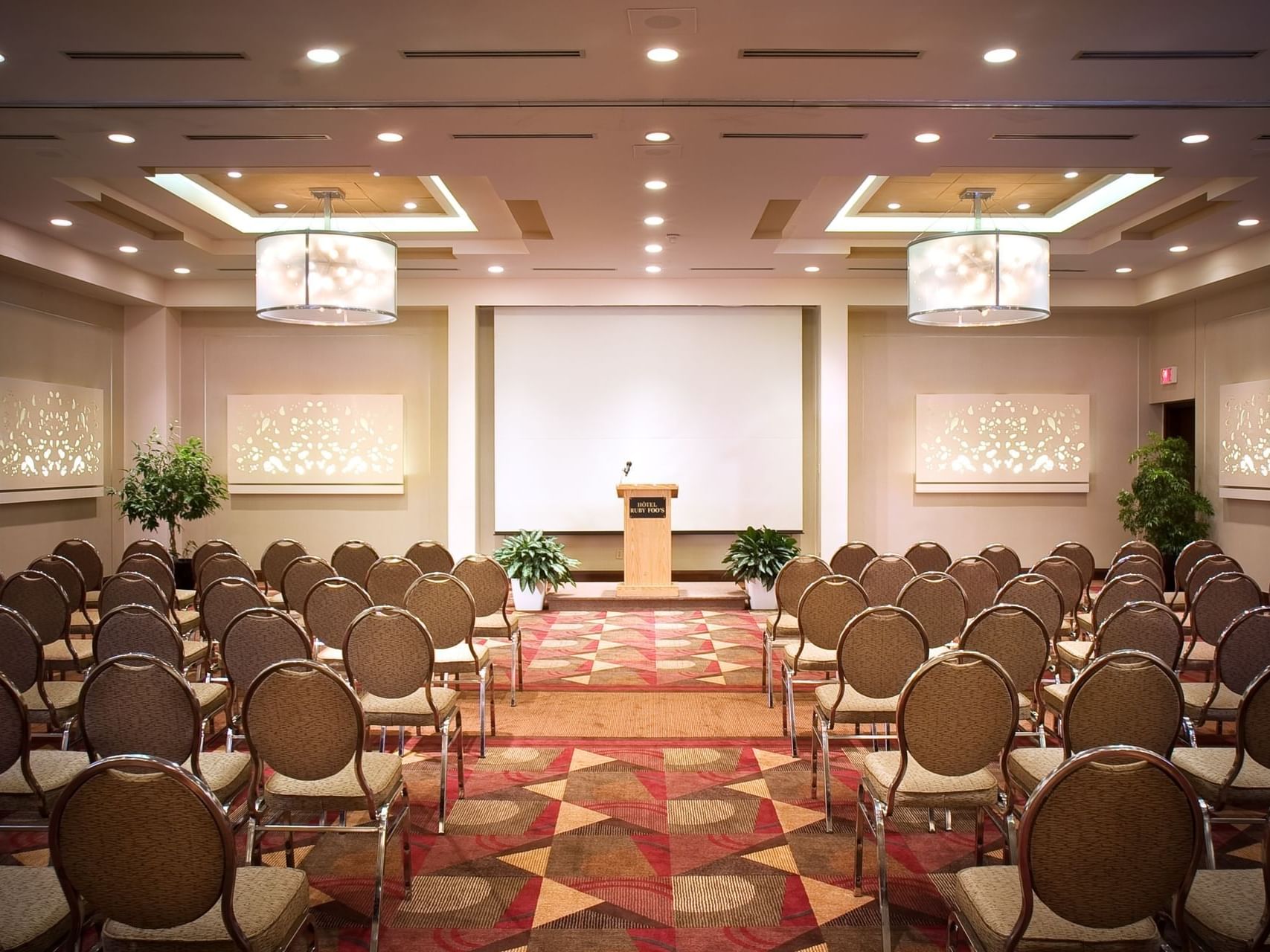 Perfect for all of your meetings and events, the Singapore space is loved for its versatility.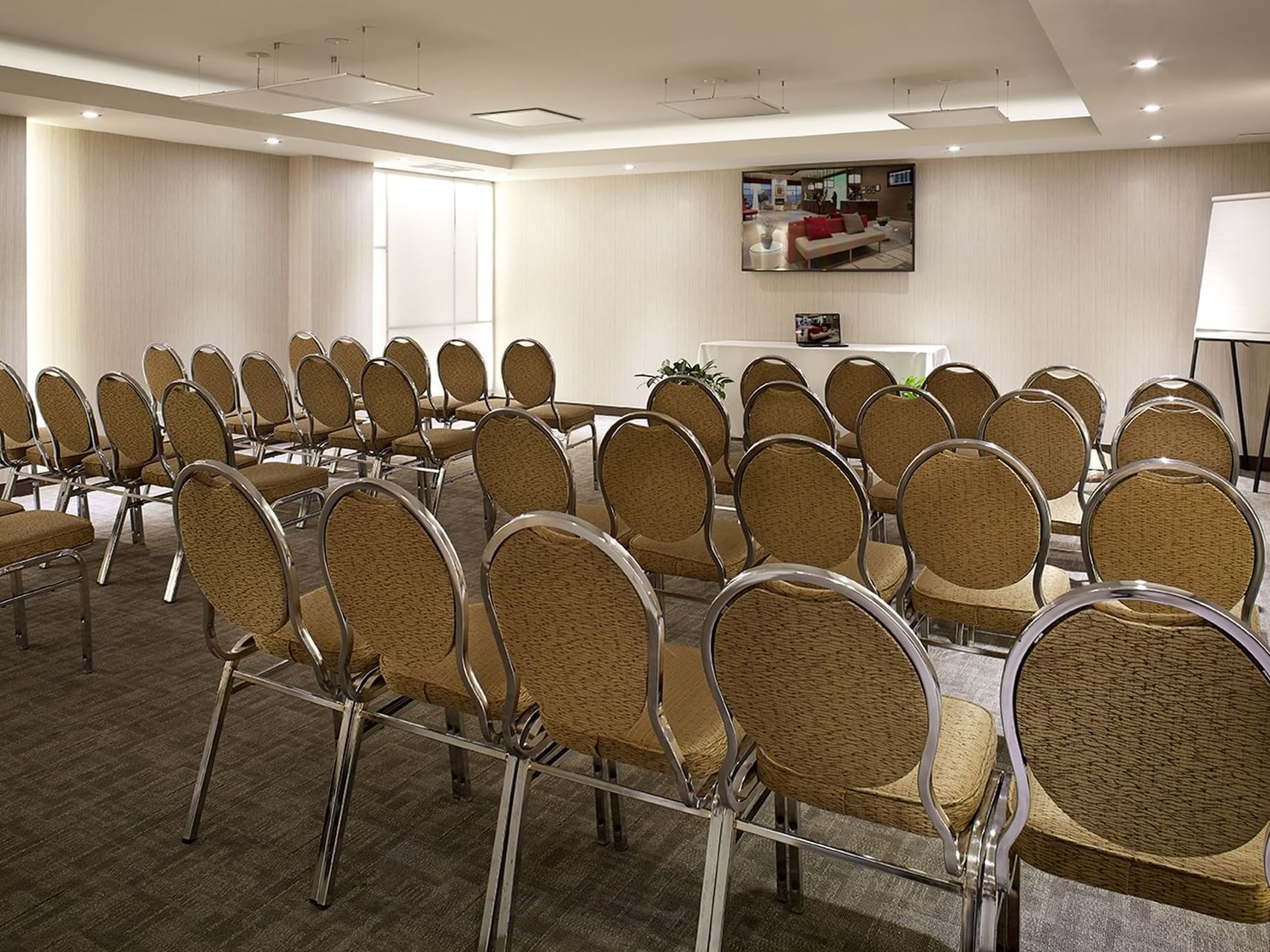 Ideal for meetings, the Séville room can accommodate up to 60 persons in theatre-style.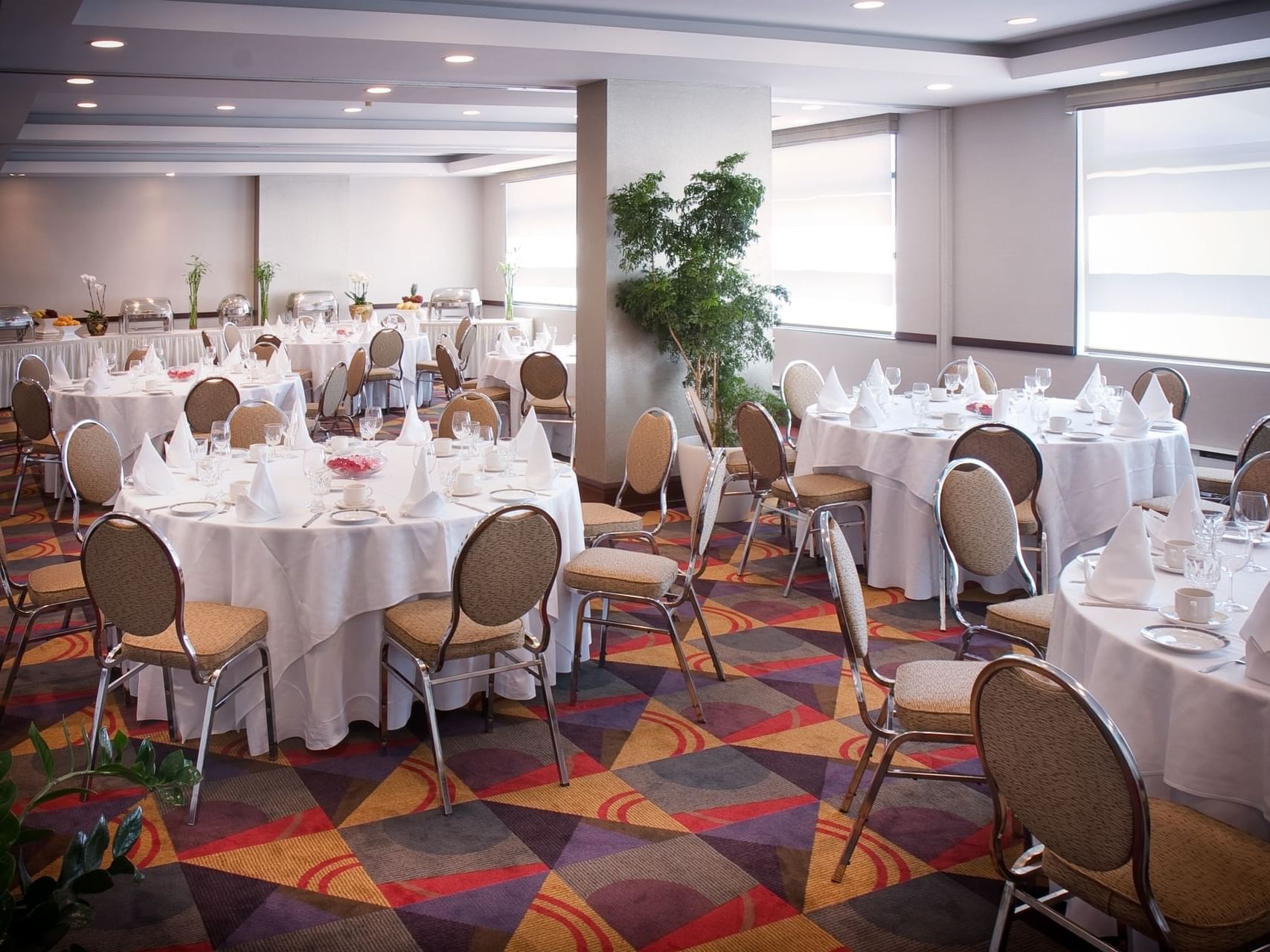 The Hong-Kong meeting space can be used as one space for receptions of up to 40 persons, or divided into two cozy meeting rooms.
Versatile Event Spaces
10 different room combinations to create the perfect setting for your event.
Capacity Chart
| | Theatre | Conference | Classroom | U Shape | Hollow Square | Banquet | Reception |
| --- | --- | --- | --- | --- | --- | --- | --- |
| Singapore | 300 | N/A | 120 | N/A | N/A | 180 | 200 |
| Singapore A | 100 | 40 | 35 | 30 | 40 | 60 | 50 |
| Singapore B | 100 | 40 | 35 | 30 | 40 | 60 | 50 |
| Singapore C | 100 | 40 | 35 | 30 | 40 | 60 | 50 |
| Singapore A + B | 180 | N/A | 60 | 40 | 50 | 120 | 100 |
| Singapore B + C | 180 | N/A | 60 | 40 | 50 | 120 | 100 |
| Séville | 60 | 20 | 27 | 25 | 25 | 40 | 50 |
| Hong-Kong / Shanghai | 50 | 25 | 25 | 20 | 20 | 40 | N/A |
| Hong Kong / Shanghai A | 20 | 15 | N/A | 12 | N/A | 20 | N/A |
| Hong Kong / Shanghai B | 20 | 15 | N/A | 12 | N/A | 20 | N/A |