Things to do in Downtown and Greater Montréal
Experience Our Unique Destination
Named after Mont Royal, the three-peaked hill in the heart of the city, Montréal is truly a one-of-a-kind destination. Historic elegance and modern sophistication blend seamlessly here; you'll find plenty of things to do, see and experience during your visit. With a great location near both the city centre and the airport, the Ruby Foo's Hotel is the perfect home base for your Montréal adventure. Additionally, our hotel is a five-minute walk from the Namur station on the Montréal Metro, making it easy to hop on a train and discover the city.

© Photo Hélico Inc - Tourisme
Ruby Foo's Hotel Montreal
Saint Joseph's Oratory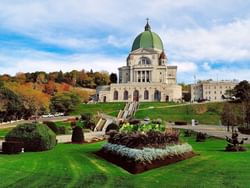 © Réjean Ménard

A must-see during your visit to Montreal, the Oratory is an ideal place for culture, nature and spirituality.
View details
Mount Royal Park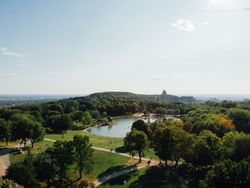 © Alison Slattery - Tourisme Montréal

Your spot for nature in the heart of the city, Mount Royal park boasts a vast network of walking paths, a magnificent lookout over the city and diverse activities in all seasons.
View details
Atwater Market & Lachine Canal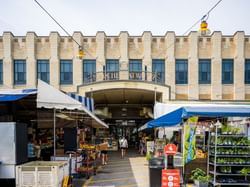 © dezjeff, Jeff Frenette Alliance

Open since 1933, the Atwater Market offers year-round merchants specialising in fresh fish, meat and baked goods.
View details
Montreal Holocaust Museum
The Montreal Holocaust Museum tells the story of the Jewish communities before, during and after the Holocaust.
View details
Stade IGA
Renowned tennis stadium, this is where to go for the National Bank Open! (used to be called the Rogers Cup)
View details
Quartier des Spectacles
The Quartier des spectacles hosts year-round art and cultural events of world-renown.
View details
Old Montreal
Explore the historic neighbourhood where Montreal was first settled.
View details
The Village
The Village is where Montreal's diversity, openness and creativity come together.
View details
Botanical Gardens
One of the city's loveliest attractions, the Botanical Gardens is one of the world's finest and largest.
View details
Montreal Olympic Park
Home to the world's tallest inclined tower, the Olympic Stadium is a Montreal icon. The Olympic Park is also host to a wide range of events throughout the year.
View details